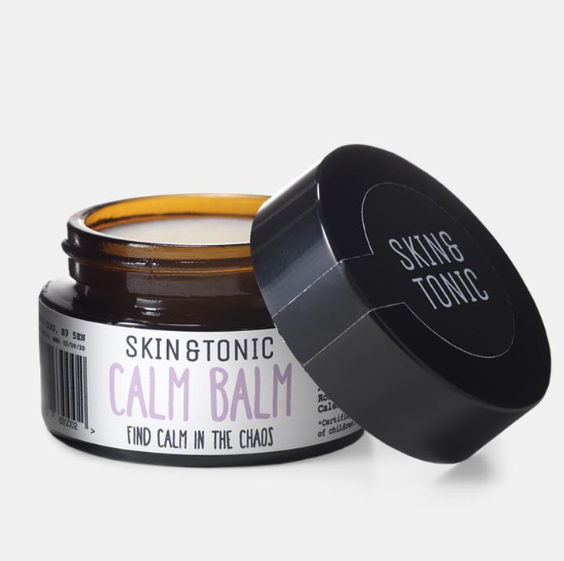 Skin & Tonic Calm Balm
A dreamy, creamy multifunctional balm that soothes skin and aids sleep. Skin & Tonic is committed to only using gentle, certified organic, fresh ingredients that benefit the skin, reduce sensitivities and support health! They make in small batches and use a maximum of 7 natural ingredients in their formulations.
Popular with yogis, insomniacs and anyone with a few too many things on their mind (i.e. most of us…) this nourishing multifunctional balm soothes dry, damaged skin, aids sleep and calms your mood.
Apply the calm balm to your wrists and temples, and breathe in throughout the day to keep you relaxed and soothed! It can also be applied to dry or cracked skin, or used to massage into muscles pre and/or post yoga to help deepen your practice. To help you catch some zzz's, try applying the balm to your palms, cupping over your nose and taking three deep breaths before bed!
This dreamy, creamy balm is made from a blend of natural butters and oils including nourishing shea butter and calendula. Certified organic lavender and chamomile are added for their calming properties, effective for both your skin and your mind.
Ingredients
BUTYROSPERMUM PARKII (SHEA) BUTTER - full of skin-friendly fatty acids & Vitamin E, this exotic natural butter, sourced from a Fair Trade women's cooperative in Ghana, helps repair damage and moisturise dry skin.
HELIANTHUS ANNUUS (SUNFLOWER) SEED OIL
LAVANDULA ANGUSTIFOLIA (LAVENDER) FLOWER OIL - known for its calming, anti-inflammatory properties, this will help soothe your skin and mind.
TOCOPHEROL (VITAMIN E)
ANTHEMIS NOBILIS (ROMAN CHAMOMILE) FLOWER OIL - a natural anti-inflammatory that cools and soothes dry and tired skin.
ROSMARINUS OFFICINALIS (ROSEMARY) LEAF EXTRACT
CALENDULA OFFICINALIS (CALENDULA) FLOWER EXTRACT
ALLERGENS: Linalool, d-Limonene, Citral, Citronellol